Colour Corps

Purpose of the Colour
Corps




The public appearance of Fourth Degree Knights as Honour Guards at civic and religious functions is an important activity of each Assembly. Their colourful capes and chapeaux add dignity and a pride of Church and country to any event.

The Colour Corps has two sub-groups, the Honour Guard and the Colour Guard. The Honour Guard are members of the Colour Corps who have mastered the manual of the sword. The Colour Guard are the flag bearers and at least two Honour Guards escorting the colours.
Purpose of the Colour Corps

When knighthood was in flower, knights carried the sword to defend their God, their Church, their country and their fellow man according to the code of chivalry. Today, Sir Knights wear regalia and carry the sword to honour Christ and His apostles, especially on religious and civic occasions specified in this manual. Hence, the primary purpose of the Fourth Degree is to encourage active Catholic citizenship and foster the spirit of patriotism in members and the community at large.
The Colour Corps members exemplify all the principles of our Order

• Charity - by the gift of their time and energies necessary to practice, perfect and perform the ceremonials and sword drill.
• Unity – by the united efforts of Sir Knights to practice and perfect a coordinated drill for the good of the Church and the Order.
• Fraternity – by expressing an "Esprit de Corps," sharing a common desire for drill excellence and camaraderie.
• Patriotism – by performing precision drill as a salute to God and to country and visually exhibiting a love for both.

The Fourth Degree member official regalia dress is as follows:
• Black Tuxedo
• Plain White Tuxedo Shirt pleated and with collar (No wing tip collars)
• Black Bow Tie
• Black Footwear
• Black Socks
• Black Cummerbund (No Vests)
• Social Baldric (worn under the coat, from right shoulder to left hip)
• Lapel Pin (Official Fourth Degree Pin)
• Name Badge
A member serving in the Armed Forces of his country is in proper attire when dressed in Military dress uniform.
When a Fourth Degree member attends an official function of the Order where Fourth Degree dress is required, he may wear the jewel of his office around his neck, be it Fourth Degree or Third Degree, together with the Social Baldric. This applies only if he is currently serving in that office.

A former Supreme Director, Past State Deputy, Past Grand Knight, Past Faithful Navigator, Former Vice Supreme Master, Former District Master or Former District Deputy may wear the miniature jewel of these offices, in accordance with the guidelines in the Protocol Handbook.
Colour Corps

As a Fourth Degree Degree Knight you have the opportunity to become part of your assembly's colour corps. As a colour corps member, you will be recognized widely by the distinctive attire of tuxedo, feathered hat (chapeau), cape and sword. Colour corps members regularly take part in civic events such as parades and wreath-laying ceremonies, and in ecclesial functions at Catholic churches.

Official Regalia Dress - Colour Corps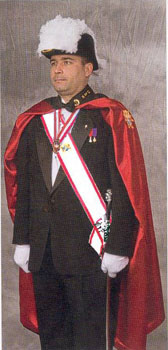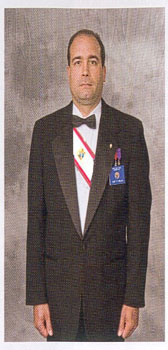 Colour Corps Dress Member's Dress

The Knights of Columbus Colour Corps official regalia dress is the same as the official regalia dress of a member, with the following additions:
1. Black Chapeau with plume the colour of the office as set forth below with the Fourth Degree patch on the right side.
2. Black Cape with lining or the colour of the office as set forth below with a Fourth Degree patch on the left shoulder.
3. White gloves.
4. Social Baldric is removed and a Service Baldric, together with a sword, is worn over the coat from the right shoulder to the left hip. When a sword is not permitted for any reason, the Service Baldric shall be worn nevertheless.
5. Colour bearers wear a colour harness and Service Baldric, but no sword.
6. The same rules apply with reference to wearing jewels of office.
7. A pocket name badge shall not be worn when dressed in Colour Corps regalia.

Colours for Colour Corps
| | |
| --- | --- |
| Supreme Master | Dark Blue Cape and Chapeau |
| Vice Supreme Master | Light Blue Cape and Chapeau |
| Master | Gold Cape and Chapeau |
| Faithful Navigator | White Cape and Chapeau |
| District Marshall | Green Cape and Chapeau |
| Assembly Commanders | Purple Cape and Chapeau |
| Colour Corps | Red Cape and White Chapeau |
| Former Vice Supreme Masters | Blue Cape and Chapeau |
| Former Masters | Gold Cape and Chapeau |
| Past Faithful Navigators | White Cape and Chapeau |